Continuing our National Secretaries announcements, we are pleased to introduce you to Denmark's recently appointed National Secretary (NS), Dr. Abdul Hayee Tareen. He shares how ISAPS has influenced him and tells us his aspirations for fulfilling his NS role. 
"ISAPS has allowed me to learn from highly skilled and talented aesthetic surgeons worldwide. In addition, I have enjoyed the wealth of information shared during conferences, the ISAPS Journals, and the surgical videos available on the website.  
Being a member allows me to compare and relate my results while listening to and watching educational lectures and live surgeries of others in the specialty while providing a unique platform to learn and appreciate the importance of patient safety in our practice.   
Additionally, ISAPS facilitates meeting medical firms presenting new equipment, instruments, and updates on current literature. ISAPS also inspires dedication in my life to bring smiles to the faces of people I meet professionally. 
I am honored and privileged to represent ISAPS in Denmark for the next four years. As the National Secretary, I will assist in spreading the messages sent by the Executive Office and from the Board of Directors to plastic surgeons in Denmark. And I will be committed to informing fellow surgeons about the tremendous opportunities that ISAPS provides in learning aesthetic surgery, polishing one's skills, and feeling confident in one's practice."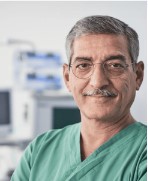 ISAPS National Secretaries