Continuing our National Secretaries announcements, we are pleased to introduce you to the recently appointed National Secretary (NS) for the UAE, Dr. Sanjay Parashar. Learn how ISAPS has influenced him and his aspirations for fulfilling his NS role.
"ISAPS has resources and opportunities that help me stay competitive in our field. Most important for me are the networking opportunities with other professionals in the field, which help me connect with colleagues, learn from their experiences, and find new opportunities for collaboration.
Also, the continuing education and training programs keep me up-to-date with the latest advancements and trends in the specialty. This is particularly important in plastic surgery, where new techniques and technologies are constantly emerging.
Another benefit of being an ISAPS member is that it provides access to research and industry publications. And ISAPS makes it possible to participate in professional events and conferences, not just as a delegate but as a speaker. 
For me, NS's role is sharing knowledge, nurturing, and helping our specialty grow, prosper, and be regulated. There is so much more to come in the field of plastic surgery. It's not just the kind of things we do but the way we do these things that matter. Patient safety and satisfaction are essential. As a spokesperson, it is my duty to spread awareness and knowledge and to build an effective, active, and collaborative community. 
During my tenure, I hope to bring all UAE plastic surgeons under the umbrella of the ISAPS organization, so we all speak a common language and help educate and uniformly perform procedures."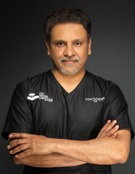 ISAPS National Secretaries