Further to the devastating earthquake in Southeast Turkey and Syria on Monday, with thousands of lives now reported lost and many more thousands injured, our hearts and thoughts are with all those affected.  
ISAPS is coordinating with colleagues from the Turkish Plastic, Reconstructive and Aesthetic Surgery Association (TPRECD) who have done an amazing job of mobilizing member surgeons and have immediately deployed the first Disaster Relief Task Force, in coordination with the Turkey Disaster and Management Authority
We are working closely with Dr. Tunc Tiryaki, Chair of our ISAPS Humanitarian Committee to keep updated on the situation.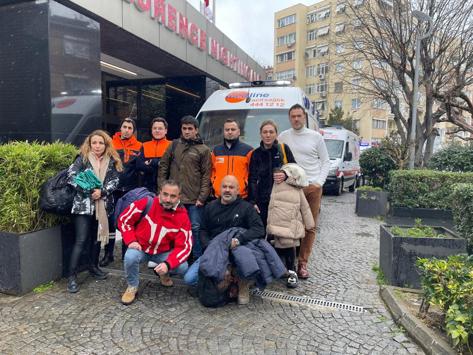 Four ambulances and a team of eight plastic surgeons (pictured here with Dr Tiryaki), under the leadership of Professor Özay Özkaya, took the 14-hour journey and arrived to the region yesterday.  Our support goes out to the team: Drs. Volkan Tayfur and Ali Ertan, from Ankara, and Drs. Özay Özkaya, Sergi Kurt Yazar, Özlem Çolak, Tamer Şakrak, Soner Karaali, and Metin Kerem from Istanbul. We wish them good luck in their mission.
Thank you to those who have sent offers of support.  At this time we are informed there is no need for international plastic surgeons to be deployed to the area. We will publish any updates in our blog.
If you want to help with a donation, there are many agencies supporting the needs in the region, you can find some examples below:
Red Crescent Society in Turkey, part of The International Federation of Red Cross and Red Crescent Societies (IFRC).
White Helmets, also known as the Syria Civil Defense, the White Helmets are a group of humanitarian volunteers who help those in need "regardless of their religion or politics . . . in a place where public services no longer function." Currently, 3,000 White Helmets are on the ground in Syria searching for survivors among the rubble and transporting the injured to hospitals in freezing conditions.