The APS Journal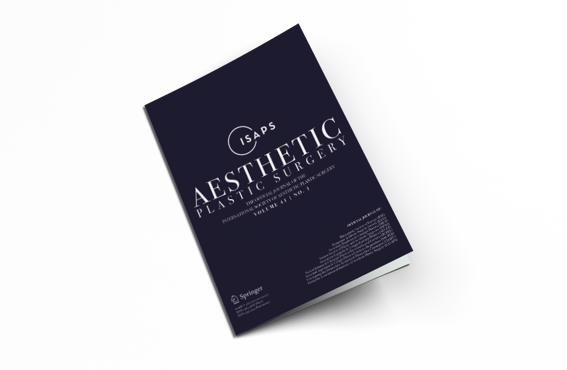 What is the APS Journal?
Aesthetic Plastic Surgery provides a forum for original articles advancing the art of aesthetic plastic surgery.
What sort of articles?
Many describe surgical craftsmanship; others deal with complications in surgical procedures and methods by which to treat or avoid them.
What does the APS Journal cover?
Coverage includes "second thoughts" on established techniques, which might be abandoned, modified, or improved. Also included are case histories; improvements in surgical instruments, pharmaceuticals, and operating room equipment; and discussions of problems such as the role of psychosocial factors in the doctor-patient and the patient-public interrelationships.
Where is APS covered?
Aesthetic Plastic Surgery is abstracted and covered in Current Contents/Clinical Medicine, SciSearch, Research Alert, Index Medicus-MEDLINE, and Excerpta Medica/EMBASE, Science Citation Index Expanded.
Important stats
Aesthetic Plastic Surgery is ranked #8 in the Google Scholar H-5 Index of Plastic and Reconstructive Surgery, with a 2019 H-5 Index of 26.
Impact factor: 2.708 (2021)
Five-year impact factor: 2.709 (2021)
Submission to first decision: 12 days
Downloads: 538,769 (2021)
Get access to the journal
You do not currently have access to the journal. Only logged in ISAPS members have access to the journal. Login with a member account or Join below! 
Editor-in-Chief
Dr. Bahman Guyuron – a world renowned author and academician who needs no  introduction – is the Editor-in-Chief of Aesthetic Plastic Surgery.
Please submit your manuscripts to Dr. Guyuron and follow the many innovations he has instituted.
Dr. Bahman Guyuron
Case Western Reserve University School of Medicine
Job Title

Professor Emeritus

Clinic/Hospital/Office

Case Western Reserve University School of Medicine

Work Fax

1-440-461-4713

Work phone

1-440-646-1279

Website

drbahmanguyuron.com
Science Citation Index Expanded (SciSearch)
CSA
INIS Atomindex
Journal Citation Reports/Science Edition
Academic OneFile
Mosby yearbooks
PubMed/Medline
Current Abstracts
OCLC
SCOPUS
Current Contents/Clinical Medicine
SCImago
EMBASE
Expanded Academic
Summon by Serial Solutions
Google Scholar
Health Reference Center Academic
EBSCO
Index Copernicus