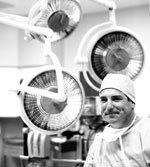 The ISAPS can look back with pride on a 25-year history since the first draft of the Constitution and Bylaws was made in São Paulo on October 1-4, 1969, and on the accomplishment of the goals as summarized in the Act of Organization on February 12, 1970, at the Headquarters of the United Nations.
This site was chosen to reaffirm the international scope of the Society.
The Founding and following EXCO Members, always backed by the General Assemblies, guided the Society in a straight direction overcoming birth pains and resisting human temptations.
These are the important facts achieved:
Aesthetic Surgery has been maintained within Plastic Surgery, as was in the mind of the Founding members. The Society soon became the first Chapter of the IPRS;
Interchange of knowledge has been increased through 12 Congresses;
Specially in developing countries. The Visiting Professors contributed as Ambassadors of the Society.
New techniques and the result of experience and research were published, first in microform, and later in our outstanding Journal, "Aesthetic Plastic Surgery".
A history of Aesthetic Surgery and a 5 volume textbook, written by prominent members of the Society, were edited.
As a result, Aesthetic Surgery has become a respected field of Medicine, represented by a responsible body of Plastic Surgeons.
Founders
Salvador Castanares – USA
Perseu Castro de Lemos – Brazil
Mario Gonzalez-Ulloa – Mexico
Ulrich T. Hinderer – Spain
John R. Lewis, Jr. – USA
Ernesto F. Malbec – Argentina
Hector Marino – Argentina
Rodolphe Meyer – Switzerland
John C. Mustarde – United Kingdom
Guillermo Nieto Cano – Colombia
David Serson Neto – Brazil
Jose C. Vinas – Argentina
Charter Members
Leo A. Bornstein – Israel
Ernestor Caronni – Italy
Jack Edward David – Argentina
Claude Dufourmental – France
Simon Fredricks – USA
William A. Lange – USA
Gordon Letterman – USA
William R.N. Lindsay – Canada
David Napier Matthews – United Kingdom
D. Ralph Millard Jr. – USA
Lorenzo Mir Y Mir – Spain
Roger Mouly – France
Seiichi Ohmori – Japan
Jack P. Penn – South Africa
Darrel Shaw – USA
Joseph Tamerin – USA
Honorary Members
Thomas S. Davis – USA
K. Guler Gursu – Turkey
Wayne Morrison – Australia
Frederick V. Nicolle – United Kingdom
G. Ian Taylor – Australia